Unboxing
The retail package is a simple white box with a transparent cover with no surprises on the inside – a soft strap, the Mi Band 3 itself and a small USB dongle for charging. Luckily, if you are an owner of the Mi Band 2, you can use its charger interchangeably – though the Mi Band 3 is hardly a device requiring frequent charging.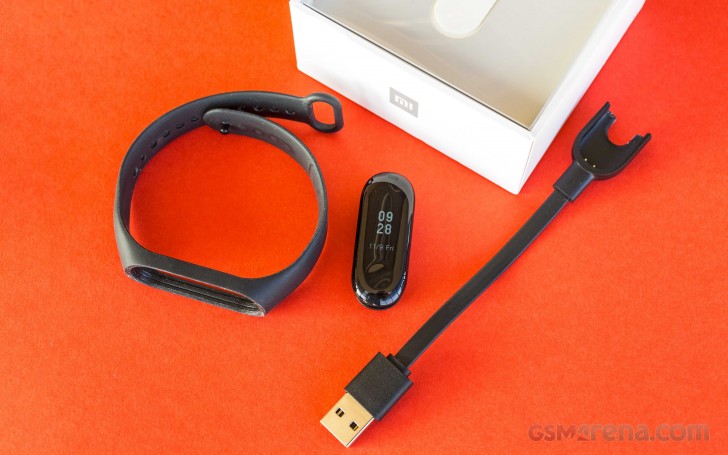 Design
Unpacking it, you notice the bigger screen – it is OLED and grew from 0.42" to 0.78". The front is curved for better aesthetics and nothing else, since not the whole thing is touch sensitive, only a small rectangle in the center.
The device managed to grow in size, but the strap has the same footprint, so while you can't put the Mi Band 2 in, you are effectively having the same size device on your wrist.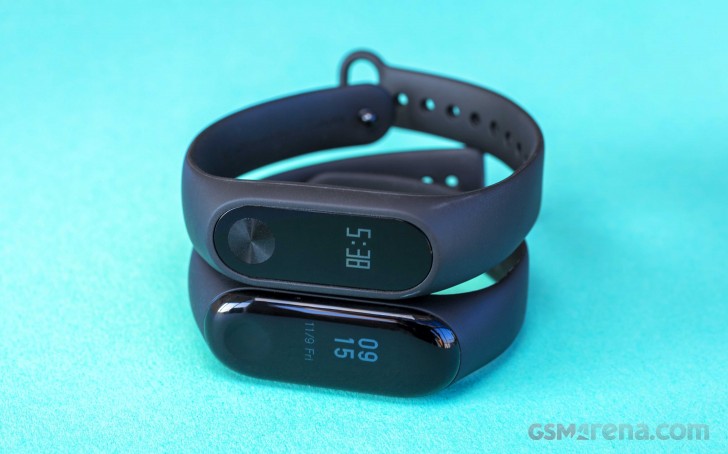 The HR sensor evolved and is now faster and more accurate, according to Xiaomi. There is also an accelerometer that is used for counting your steps. If you are the type of person that runs with all kinds of electronics on your body, don't rely on the Mi Band 3, since its purpose is everyday use, not helping you prepare for the Skyrunning World Series.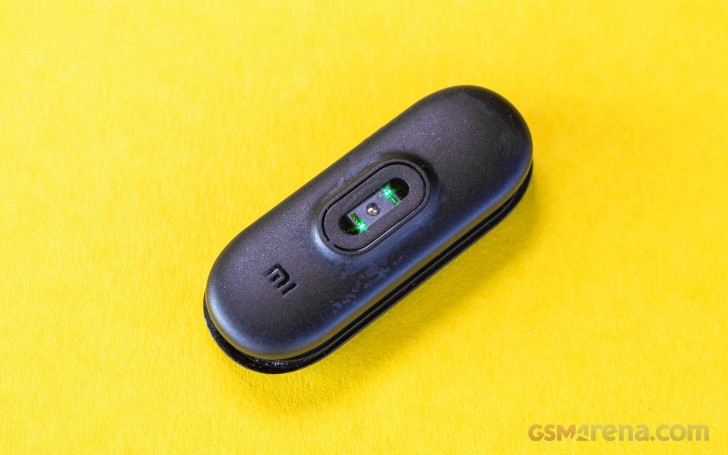 Overall Xiaomi followed the old saying "If it isn't broken, don't fix it". It was working perfectly fine and nothing major came along – only minor improvements.
Screen
The screen is the biggest change on the Mi Band 3. Now you can swipe up and down, left and right for going through the panels – pedometer, distance, burned calories, battery capacity, weather forecast, exercise recording.
It takes a day or two to learn how the button works – one tap gets you to the home screen with the clock, a long tap activates the selected option.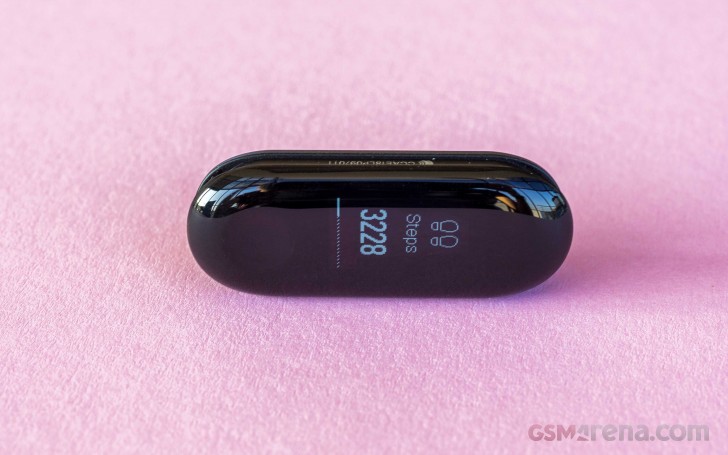 We have to give it to Xiaomi for making the button on the Mi Band 3 slightly curved – it is less intrusive to the eye, compared with the predecessor.
Features
Since we touched upon the various things you can do with the band, let's get into details. The heart rate can be measured at set intervals, so you can monitor it during the whole day. This is neat not only by looking how your pulse changes during various activities, but which situations get your blood boiling, so you can stop getting involved in them.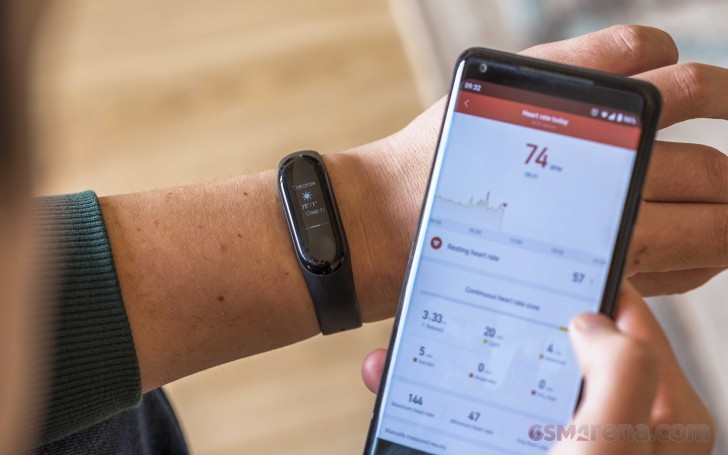 The pedometer algorithm is more accurate when you participating in sports. There is real-time distance, duration, and other related metrics pop on the tiny screen. Thanks to the 5ATM and IP67 rating you can swim and cycle without worrying about water or sweat.
There's the option to measure your weight, but it works better with a Mi scale, otherwise you have to track input your every measurement manually, and this kills the whole vibe of smart connectivity.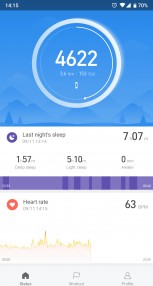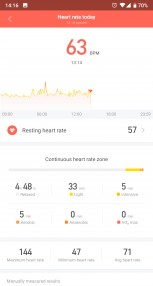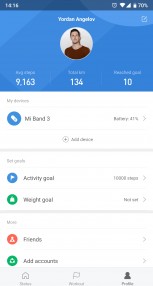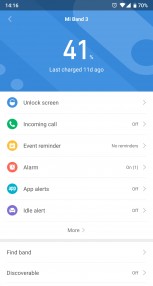 Overall view • Heart rate data • Profile menu • Mi Band 3 Menu
The sleep monitor is something that our team is swearing into. The revamped Mi Fit app follows your sleep schedule and REM, and explains it with proper visuals. Once you have enough days tracked, you'll get suggestions when is the best time to tuck yourself to bed.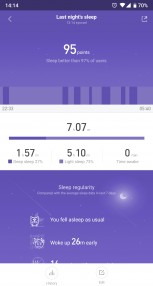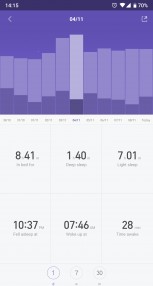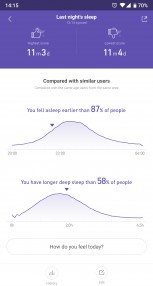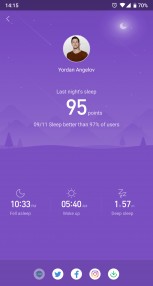 Last sleep cycle • Sleep cycles per day • More sleep data • There's even a share option
Here's a bit of a personal opinion – since I work with smartphones during the day, I leave my Pixel 2 XL out of the bedroom during the night. My SO relies on an old-school alarm clock, but I get up way earlier than her, so I have the Mi Band 3 to wake me up with a gentle buzz (which feels neither gentle nor a buzz if you are into a deep sleep, but still does the job).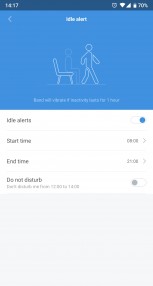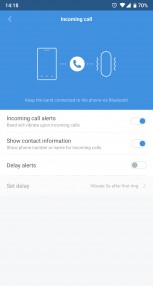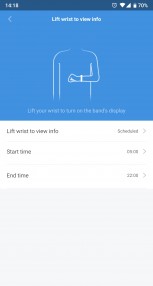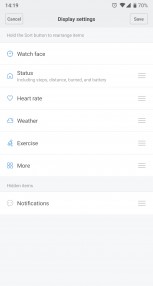 Idle Alert • Incoming Call Alert • Lift wrist to view info • Display Settings
As all smart wearables, the Mi Band 3 also reads notifications and notifies you on calls. If you turn it off, you might get a little bit more juice out of the battery, since it will vibrate less often.
Battery Life
Xiaomi did a tremendous job with the Mi Band 2 and its battery life. With making the Mi Band 3 a bit bigger, the capacity also grew to 110 mAh. Of course the touch screen requires slightly more power, but you will easily go over two weeks without the need to plug it in.